Armed and ready for service. I warn you though, she might do baaaaad things to your fps. Just saying.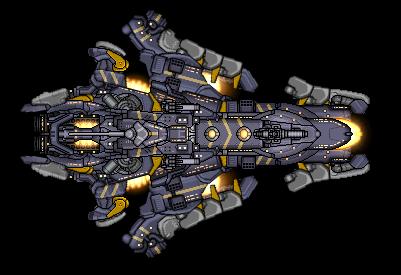 6 Missileboxes, 35 missiles of 30 damage over roughly 5 and 1/6th seconds each. 10 second reload.
2 ConvMIRV launchers, 4 missiles with 25 submissiles of 50 damage each in a large forward-fan pattern fired over a little over a second with 20 seconds for reload.
1 TacNuke Cannon, 350 damage, 150 explosion size, 6 second reload.
2 Flak Cannons. 7 rounds of 300 damage each, fired over three and a half seconds with a three second reload.
2 Pulsar Field Cannons. Firing fields of 50 pulsars of 30 damage each in a 360 spread. 6 second reload.