Gloriously Orange Republic of Eden
Widely regarded as religious extremists (also as complete and utter nutjobs), the Gloriously Orange Republic of Eden, or GORE, strives to make the universe a better place... by systematically eliminating anything they regard as impure, heretical, or just anyone that looks at them funny. GORE ships employ arcane and ridiculous "missile launcher" weapons, as well as bizarre, futuristic blue lasers and green engines they claim to have recieved as gifts from their Gods. Their crews are poorly trained but fanatical. Whether this is a good idea or not remains to be seen.
Download Simulator Files and Additional Data
GORE VX Legion
The Gloriously Orange Republic of Eden's first engagements using little but the
Alastor
did not go exactly as planned, so their enlightened engineers and shipsmiths designed the
Legion
. These gunships swarm down upon an enemy ship, drawing enemy fire away from friendly vessels whilst using their superior maneuverability to avoid taking damage. The
Legion
employs a special chassis system and a fire control system that, when used correctly, allow it to ensure it is always pointing at it's intended target. When used incorrectly... let's just say the results aren't pretty. The
Legion
is primarily piloted by the newest and most zealous recruits - these squadrons tend to have very high casualty rates as a result.
Armament
4x Tiny Laser
GORE VX-M Legion

In their infinite wisdom, the Grand High Council of The Gloriously Orange Republic of Eden declared that the
Legion
squadrons needed a little more long-range power, and thus the VX-M variant was designed. Swapping out the VX' quad tiny lasers for two
Sparrow
Light Missile Launchers, the VX-M sacrifices none of the VX' armour or speed to carry out it's mission. It also features the same chassis control system, though the fire control was deemed unnecessary as the missile launchers had appropriate targeting computers already. The VX-M is regarded as a stepping-stone between
Legion
and
Alastor
command, and is usually flown by the more experienced recruits, rather than fresh pilots.
Armament
2x Sparrow LM
GORE VX-T Legion
When the battlefield is too risky to deploy
Paimon
-class vessels, or there are none available for a fast mission, the VX-T variant of the
Legion
is deployed. It employs two paired
Breaker
-type Torpedo Tubes like the
Paimon
, and it's high speed allows it to outflank enemy vessels. A barrage of torpedoes to the flank is one of the last things one wants to experience as the captain of a ship, after all.
Armament
2x Breaker EC Torpedo
GORE V4 Paimon
Designed by order of the Grand High Council of The Gloriously Orange Republic of Eden, the
Paimon
-class Torpedo Boat sort-of fills the gap between the
Legion
series (specifically the
VX-M
) and the
Alastor
. The
Paimon
is often deployed alongside the
Asmodeus
during routine patrol missions, as the vessel's speeds and loadouts complement each other fairly well.
Armament
2x Breaker EC Torpedo
GORE V1 Alastor
The Gloriously Orange Republic of Eden's first serious foray into space warfare, the
Alastor
is armed with an array of twin light laser turrets and a pair of horrendously powerful
Equalizer
Thermal-Explosive Charge Torpedo Launchers, which can, when used properly, inflict serious damage on an enemy vessel. The
Alastor
is best suited to long-range combat, as it's somewhat oddly placed gun batteries prevent it from bringing most of it's guns to bear on a single target.
Armament
2x Medium Laser
2x Twin Light Laser
2x Equalizer TEC Torpedo
GORE V2 Asmodeus
The Grand High Council of The Gloriously Orange Republic of Eden declared that their fleets needed a "midline" ship to hold the ground between the VX
Legion
series and the V1
Alastor
/V3
Abaddon
ships. Thus, the V2
Asmodeus
was created. A relatively fast attack ship, the
Asmodeus
takes over from the
Legion
in high-threat environments. The Asmodeus is armed with two Medium Laser cannons (one full-flex turret, one "chin" emplacement), two fixed
Sparrow
LMLs, and six Tiny Lasers, three on each side, allowing it to deal with enemy gunships quite efficiently.
Armament
2x Medium Laser
2x Sparrow LM
6x Tiny Laser
GORE VT Surgat
Reserved for those who have somehow dishonoured their family in the Republic (that is to say, those who can - and will - fight for the Republic, but have otherwise been cast out), the
Surgat
-class ships are salvaged or stolen V6
Marauder
-class vessels, likely previously employed either by the ASDF (as the D1
Kama
) or Kebb Confederacy (as the SVD02
River
) - but never bought or traded. The
Surgat
is named for a minor demon of Christianity, and little of known of him save for the fact he may have the ability to open any lock. Perhaps fittingly,
Surgat
crews take a keen interest in boarding action, though the erratic and underfunded nature of
Surgat
outfitting also means they end up performing electronic warfare and other miscellaneous duties (such as impromptu minesweeping) as well.
Armament
2x Heavy Laser
4x Small Laser
GORE V3 Abaddon
The Gloriously Orange Republic of Eden decided it needed a powerful long-range combatant. Thus, the
Abaddon
was created. The
Abaddon
packs good all-round coverage and two devastatingly powerful
Leveller
Tactical-Nuclear Charge Torpedo Launchers, as well as two
Sparrow
Light Missile Launchers for shorter range coverage. Unfortunately, it's forward-heavy design makes it sluggish and it handles rather poorly, so it is best kept behind faster friendly ships where it need not worry about being flanked.
Armament
1x Twin Snub-Superheavy Laser
2x Leveller TNC Torpedo
5x Medium Laser
GORE V5 Moloch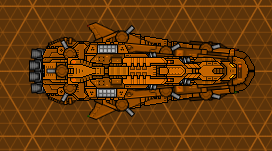 Space Triangles. Long have they held great power and significance to the people of the ASDF and Kebb Confederacy. Seeking to turn that imagery against their foes, the Grand High Council of the Gloriously Orange Republic of Eden commissioned and sanctified the
Moloch
. It is a lumbering, inelegant, but incredibly powerful warship that will not go down without a fight, necessitating the "needless sacrifice" of lives and warships to destroy it. It is not, however, a one-ship fleet, and works even better when well supported.
Armament
2x GORE Heavy Missile Array
4x Leveller TNC Torpedo
9x Medium Laser
GORE V5 Moloch X
An unorthodox development in the history of Explosive Warhead Missiles, the
Moloch X
features two
Saturation Missile Turrets
atop it's chassis. Each launches four powerful missiles in rapid succession. Each is essentially a
Breaker
-type Explosive Charge Torpedo with significantly boosted range, albeit with extended reload times. The
Moloch X
sacrifices nothing to deploy these launchers - indeed, surveys suggest that the incorporation of turret-based systems was planned from the beginning, but scrapped from the production-model
Moloch
due to time restrictions. The
Moloch X
is more expensive (and thus lesser in number) than the "standard"
Moloch
, but is an even more dangerous foe.
Armament
2x Saturation Missile Rack
2x GORE Heavy Missile Array
4x Leveller TNC Torpedo
9x Medium Laser
~~
Bonus Image 1:Bonus Image 2:
~~
• 1.0: Initial release of GORE ships. V1, V2, V3, VX, VX-M.
• 1.1: Adjusted torpedo range on the V1 and V3. Included some missing sprites.
• 1.2: VT Surgat with Kebb disguise not included at present. Press the comma key (,) to make the Surgat (ASDF) variant toggle between GORE and ASDF colours. Also doesn't include the shielded variant of the Abaddon.
• 1.2a: Now available! Includes Kebb-disguised Surgat (many thanks to HM for providing the blueprint so I could make the disguise more convincing) - same procedure as the ASDF-disguised Surgat to toggle "Turncoat" systems. Also adjusted the turrets on the Moloch X for a more visually appealing barrage.
See top of post for downloads.