This post is pretty big.

I never posted the very first ships I made when I first started playing Battleships forever, I finally managed to get these back and made screenshots of them. Now I can show exactly how I began and how I've improved.
The Spootech Industries fleet is a joint organization paired up with the United Commonwealth Military, as shown on my sig. There are four Revisions, all of which are a part of a brutal (If not bizzare) war called The Infestation. The first two Revisions fought in the First Infestation, while the Third and Fourth Revisions fight in the Second Infestation.
When you see these images, they are exactly as they appeared when they were first made.
The First Revision: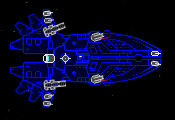 Firestorm class Patrol Combatant
The Reliant class Missile Support Frigate (This was my
VERY FIRST
ship, the one that started it all.

)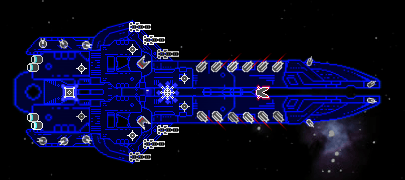 Liberation class Light Destroyer
Vindicator class Heavy Destroyer
Avenger class Battleship / Dreadnought
Notes about the First Revision:
These first five ships I built were during the time Ship Builder 2 was still used, before the Beta of SB3. They were a solid blue color, and structure-wise, lacked planned parenting and had no ablative armor. These ships are very Railgun heavy and have beam weapons on turret mounts (If you can notice I did not know of using Section 13 as a turret base at that time). The most unusual thing about these ships is that some of them have Demeter Launchers and Impeders, and other wonky modules, and Point Beams. Notice that the Liberation, Vindicator, and Avenger have the same base hull.
The Second Revision: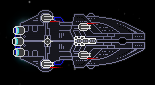 Firstorm class Patrol Combatant
The Kesrel class Corvette, a weapons and armor addon to the Firestorm.
Reliant class Missile Support Frigate, originally had a reversed Delta-wing design to house its missiles, the ship was rebuilt to fit the First Revision more accurately.
Liberator class Light Destroyer, this was turned into an anti-Strike Craft patrol ship, and had all its Railgun removed.
Prometheus class Heavy Destroyer, this was my pride and joy of the Second Revision, a mini-Sovereign, built to pack a heavy punch.
Vindicator class Cruiser, the same broadside ship with more modified Railguns that fire multiple shots per gun in a wide spread.
Sovereign class Battleship / Flagship, Originally classified as a Flagship, this ship used to be unstoppable.
Judgement class Dreadnought, the first ship to present a specialized beam weapon, called the Hand of Judgement.
Notes about the Second Revision:
All of the ships I previously built from the First Revision was rebuilt from the ground up and became the Second Revision, with new ships added to the fleet. This was when the SB3 Beta was released so weapons became color coded to weapon values, blue projectiles came from the weakest weapons and became more white as power increased. Design-wise, they looked better, but still had bad parenting. Demeters and Impeders were removed from the ships, and some had Gosling Launchers used for long range bombardment. With the Second Revision you can notice where I just began the use of weapons placement for beam weapons.
The Third Revision: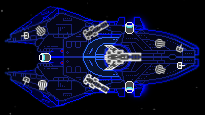 Curtana class Monitor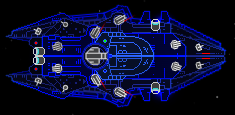 Shashka class Corvette
Broadsword class Missile Frigate, the Reliant is no more, this is the new missile support ship.
Flamberge class Beam Frigate
Liberty class Destroyer
Independence class Destroyer, tries to keep most of the design features of the Prometheus, but under a different name.

Constitution class Assault Cruiser
Paladin class Battlecruiser, concept of this ship follows that of the Vindicator.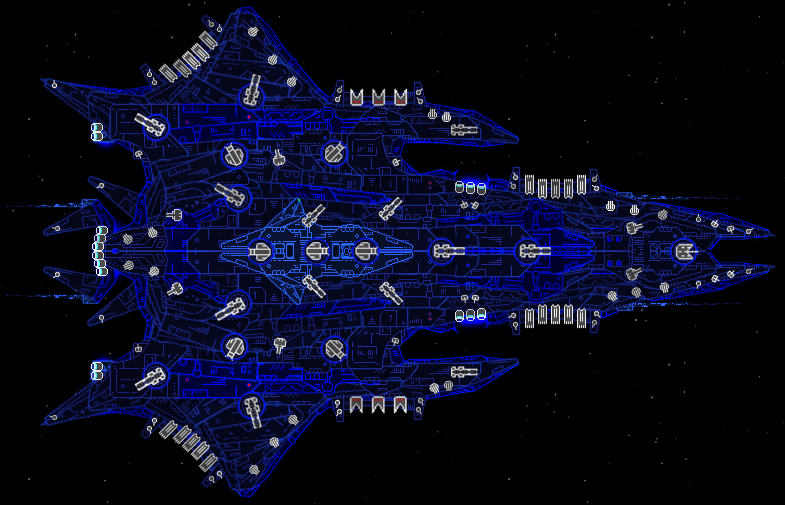 Templar class Battleship, hull and weapons addon to the Paladin.
Inquisitor Dreadnought, this was the first ship of the Third Revision that I made, which made me decide to make a new fleet.
Crusader class Super Dreadnought, given the classification of Titan for its size.
Notes on the Third Revision:
It was not too long ago I made this fleet, about the course of two months, starting with the Inquisitor (Which I thought to be my biggest, most difficult challenge to make...

). After that I had confidence to make more ships. There are a lot of changes between the Second and Third Revision, for one, I began to use side thusters, my use of weapon placing improved (Section 13's became used), Point Beams were replaced with Particle Guns and Flak Cannons, and I developed codenames and nomenclautres for my weapons and ships. Parenting is actually used properly and there is now ablative armor. The ships look rather flat still and there's been an issue with Railguns that I couldn't resolve at the time of making the Third Revision. It's a good fleet overall, but there were still some kinks to work on.
The Fourth Revision:
Curtana class Monitor, work was done on it so it acted more like the River Gunboats back in time, it is only armed with one offensive gun.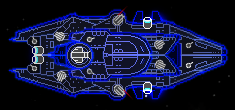 Shashka class Corvette
Schiavona class Corvette, experimental weapons testbed.
Independence class Destroyer, larger than it was in the Third Revision.
Constitution class Assault Cruiser.

Paladin class Battlecruiser
Templar class Battleship
Inquisitor class Dreadnought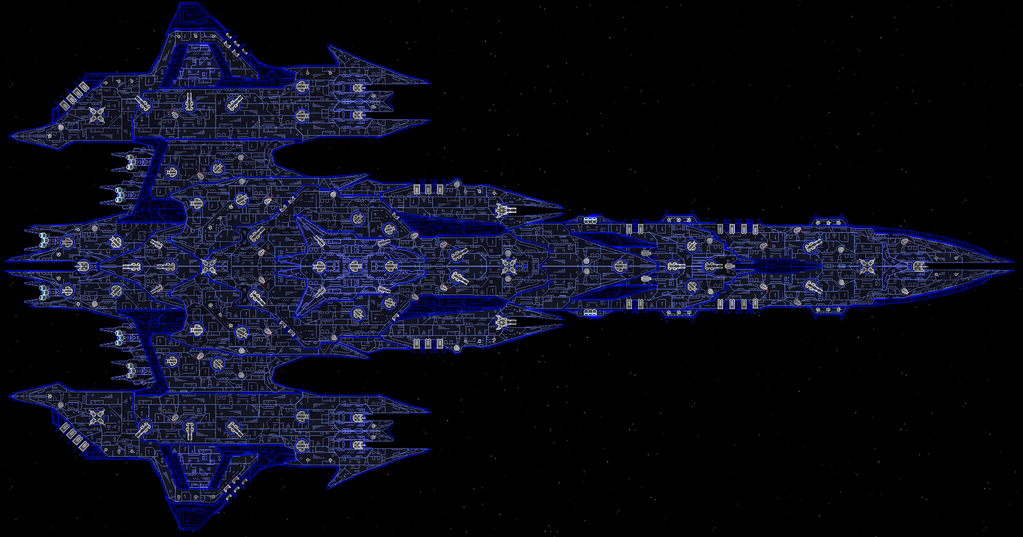 Crusader class Super Dreadnought / Titan
Notes on the Fourth Revision:
Ablative armor was improved by using section outline, which is also used to make ships appear more detailed overall. Railguns are perfected and weapon placement was further improved. The use of rapid fire Mining Beams to act as a Homeworld 2 style Pulsar gun was added to make the ships more lethal. As of now the Fourth Revision is still being worked on.
This was made for comparison purposes, no downloads will be added here. Discussion is completely open.