This is a thread for all fanships I'll be making in the foreseeable future. And I think that's going to be plenty.
Romulan Norexan class Warbird
___________________________________________________________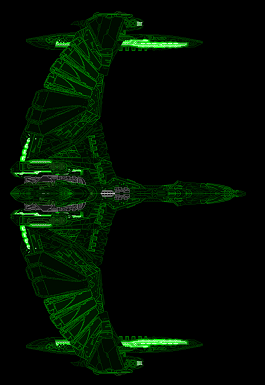 Click picture for better image
The Norexan is the successor of the D'Deridex class warbirds in common use in the Romulan Star Navy around the 24th century.
In replacement of the D'Deridex, or "B"-type warbird, as dubbed by the Federation, the Romulans commissioned a sleeker, smaller, faster
and more modern warship with a crucial modification in it's artificial singularity, that it uses as a power system; an off switch.
The ship was first seen by Federation personnel in the battle of the Bassen Rift, where two of these ships fought alongside the USS Enterprise-E
against the Reman Warbird
Scimitar
. This was also one of the first combat tests for the Norexan; it's most crucial flaw turned out to be the
fragility of it's wings. Vessels constructed later on had fortified wing braces, as well as thicker wing armour.
As weapons, the Norexan carries a number of heavy forward disruptors, as well as two pivoting disruptor turrets on it's wings. Additionally, three disruptor beam
emmitters were added; two forward, one aft. The Norexan also posesses powerful secondary weapons; four forward plasma/photon torpedo bays, two aft, and a torpedo
turret on top of the stern structure, capable of launching photon torpedoes at high fire rates. Per defense, it carries a powerful shield generator plus a series of redundant
generators that relieve stress from the main shield. Vessels constructed after 2425 A.D also carry a system of point defense particle cannons, that can disrupt energy bolts and intercept
projectile weaponry. They are, however, useless against the commonly used beam weapons such as phasers and disruptor beams.
Note
: The model shown is based upon the latest variant of the Norexan, the
RNS Augustus
. It carries aforementioned point defense system, as well as the reinforced wings.
Full weapons loadout
(v. 01)
-2 Upgraded Heavy Pulse Disruptors (fixed)
-2 Heavy Pulse Disruptors
-2 Pulse Disruptor Turrets
-3 Disruption Beam Emitters
-2 Photon Torpedo Tubes
-1 Photon Torpedo Turret
-2 Plasma Torpedo Tubes
-8 Interception Disruptors
___________________________________________________________
References and other pictures;
Reference Picture
Colours
Parenting
Primary weapons in action
Old Norexan model
___________________________________________________________
Downloads;
VERSION 0.1
This DL contains the .sb4, the .shp plus two maps; "AD", containing some custom sections I made and used (some crappy, some less so) and some others, that you're free to use. It also contains a map called 'bullets' that contains my custom beam sprite and disruptor bolt sprite, plus two crappy attempts at photon torpedoes. Instead, I've used some of
Ixranin
's sprites. Naturally, credit goes to him. Go
HERE
, and DL Rotating Pulsar (Clockwise) and Electric Ball Mono, and put them in '
Custom Sprites\Ixra
'.
Colonial Battlestar Galactica (WIP)
___________________________________________________________
Galactica
(BS 75) is a veteran battlestar and the last of her kind still in service with the Colonial Fleet at the time of the destruction of the Twelve Colonies. Built during the early days of the Cylon War, she remains the only military vessel without integrated computer networks. Without networked computers, Galactica never upgrades to the new integrated defense system software developed by Dr. Gaius Baltar and his team. Because of this and other factors, she becomes one of only two known battlestars (the other being
Pegasus
) to survive the renewed Cylon attack on the Twelve Colonies. At the time of this attack, she was part of the 75th Battlestar Group (BSG-75).
Full weapons loadout
(theoretical)
~ several dual point defense kinetic weapons
~ Dual Railgun x24
~ Standard missile bay x12
~ Nuclear missile bay x1
Other Images
____________________________________________________________
An example of the Galactica's flak system at work.
With hangar pods retracted