So, yeah, here it goes!
Part I
Part II
A Class Scout I: "Sir, we're measuring high amounts of Energy some Million Miles away."
E Class Colonizator: "Sure about that? It could just be some Star getting Big or Exploding. I think it's better for you to build a Line behind us, so you're protected from the Energy Wave."
A Class Scout II: "I don't think it's a good Idea...the Energy seems to be concentrated and is Travelling way to fast!"
E Class Colonizator: "What the...?"
A Class Scout I: "Oh my god! What is happening!"
A Class Scout II: "I don't know, but we should get the heck out of here!"
A Class Scout II: "Where the heck is this Energy coming from!"
A Class Scout I: "We'll check it later, now move!"
A Class Scout II: "We're moving, but...*broomzssssshhhhhhhhbuww*...damm! We're hit!"
A Class Scout I: "MOVE AW*brzshhhswsh*..."
A Class Scout II: "Steve! save yourself if you're still alive...we're being....."
Part III
O.S.D.D.S. Mars: "Incoming Emergency call. Activate codifier."
"Help us! We're under Attack! They're coming for us, and they'll come for you all! Alert Blue Message Code 647EGP0Z!"
O.S.D.D.S. Mars: "Emergency call accepted. Validated Alert Code. Activating all Defenses. Connecting to Earth..."
U.T.F. (United Terran Federations)
E Class Colonizator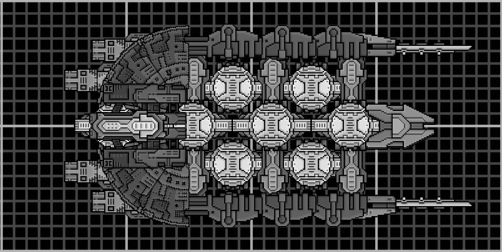 Designed in the late 2560ies, this Ship was originally intended to Transport goods from Earth to the Moon and vice versa. As the U.T.F. noticed that the Ressources on Earth wouldnt be enough for everyone, even thought a high recycle rate, they built a new one for Human Transport. It's the first Colonization Ship ever sent into the Universe. As it's not armed, it's very important to only send it out with some guards.
A Class Scout
Mostly used to Guard Transporter ships, it is also often used to destroy approaching Meteorites and Scout the Area if theres something suspiscious going on.
The Ship is armed with:
2x AC-Blaster Cat. 3
O.S.D.D.S.
The O.S.D.D.S. (Outer Space Drone Defense Station) has been made to secure strategic points in the Space and to hold them. The Station is fully oberated by an AI, and is in usage since tha 2520ies. It is capable of carring up to 4 B Class Attack Drones.It comes equiped with:
8x B Class Artillery
2x B Class Heavy Twin Artillery
B Class Attack Drone
Small and fast, those Drones are built for mayor Defense usage. Equiped with:
2x C Class Machinegun
More to come soon! Leave Feedback