Quote:
90 means 90 degrees to the left and to the right, as a weapon turns left and right, also read the first post there's rules and guidelines there for a reason.
Like the weapon and module stats.
Yes i have read the first post, several times, carefully, that's why i asked...and funnily enough i do understand how arc ranges work, and the principle of left and right.
@HM: Ok thanks, i guess the vulcan's seemed ok, it just struck me when a big artillery gun still had 60 listed as it's arc, thought it was rather large for a big gun like that.
Edit: A damn fast ship, since after fighting starstruck's gamesmanship ray and it doing one circle round my ship so fast it destroyed it having barely been targeted. And also i forgot to put a beamer onto the previous ship that should've been on.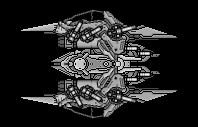 Ed: @Starstruck: I think you should take a look at your vulcans on the Gamesmanship Ray, they seem to have an awful fast fire rate for heavy vulcans, just compared it to a little mock up and unleashed them at a brick, definitely faster.