All right, since I'm not PinkFlowerPrincess anymore, I'm coming back to this thread. The PFP thread is dead, and shall not be used. First, I guess I'll respond to 25000st's critique of my testships:
25000st wrote:
First ship: I'm rather liking it actually.
Yeah, it was probably my favourite of the lot too.
Quote:
Second ship: The engine sprite is not fitting as well as it could. It also just doesn't fit the ships style. Those horizontal littly details at the front also kill the flow.
Agreed. Generally I wasn't happy with that ship at all.
Quote:
Third ship: It has been depthed yet feels flat in a way. Those horsemonster(?) connectors or struts or whatever also don't really fit with the ship IMO but idk. The ship also feels too dark in the front. I know it's part of the depth but... yeah. Also, the ship might look better turned around but not really sure about that either.
The only parts I really liked about that ship were the engines. I don't really think the HorseMonster struts are such a problem, but that may just be me. Otherwise, yeah, I agree with most of what you're saying.
Quote:
ED: Just realized these were tests.

Edited post so it's just cnc. Left it there in case you wanted it. If you don't, just ignore me. Sorry.
Heh, it's no worries.
Anyway, here's some screens of some of the things I've done lately. None of these are finished products, most will not ever be finished, 'cause I'm generally not very happy with them: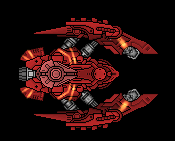 Recoloured PFP thingy. Not bad, if I finish it, I'll probably change the main hull colour to grey or a pale metallic blue. I am as yet undecided.
This is as far as I got on Angra Mainyu. Removed large chunks of the hull, remade parts of the internals, got bored of shipmaker and left it. Maybe be completed at some point.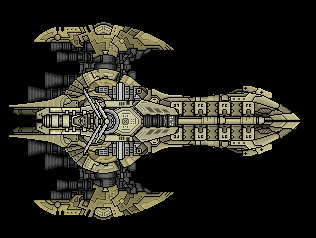 Another recoloured PFP ship, some modifications made. Still a long way from finished, and I'm not entirely happy with it, so I may just scrap it.
Both of these are continued experiments with the robo sections. Just me messing around, not serious ships. Neither one is likely to see further completion.
Finally, here's a sneak-peak at what I may be planning for my next ships:
Quote:
[17:08:46] <Anna> Hrm. I have the urge to build a fleet of more brickish ships with something resembling hard sci-fi balance...
[17:11:58] <Anna> Slow, chunky missiles that are only good against near-stationary targets or at close ranges, railgun weapons that launch shards of shrapnel at relativistic speeds for mid-range weapons, large, slow-firing but highly accurate lasers for long-range weapons...
[17:12:44] <Anna> And an assortment of passive and active defenses that seem realistic.
[17:12:56] <Anna> I think I could possibly do it...
[17:19:26] * Anna puts on Hell March 2 and plots.
_________________
Founder and Event Coordinator for the BSF Beauty Pageant. Founder of the Pseudo-Chainship Project. Admin. Games Master.
Quality Control Enforcer
Gay cute girl and fucking proud of it.