It's been a long while since I've posted here. A very long while. I've been precoccupied with the metagame, but now that it's on hiatus, I might as well move my stuff here for the time being.
The reason I'm posting here instead of Anna' subforum is simple: inspiration. For the past few months all I've seen on this forum are new people that are not getting proper guidance. Personally I have to admit I've been too lazy to post. That is going to change now. I will attempt to give proper commentary on the threads that pop up here, and to provide a source of inspiration for everyone here. I know I'm talking big words, which may or may not be justified, but I think I'm right when I say that the quality level has dropped significantly over the past few months. Time to give it a boost.
The Arcanity Conglomerate
The newly formed Arcanity Conglomerate is a megacorporation, existing out of Arcanity Heavy Engineering, AlphaTec, Salazar Industrial and Weapons Modification and Development. It produces ships, weapons, vehicles,... for the Alliance and other interested clients.
It's recent formation was the result of the new influx of young engineers and audacious entrepreneurs who were hired by Arcanity Heavy Engineering's CEO William Mercer to raise his company to a new level. The result of this enterprise are two new corporations with new ideas and the formation of a main corporate body to oversee these new assets.
Below is a summary of the products delivered by this new corporate heavyweight. While AlphaTec and Salazar products are still in planning stage, the upcoming research projects of WMD and the trusted models of AHE have already been shown to the public.
1. Downloads
AHE - Third Generation
http://www.mediafire.com/?hmdidqjzdzz
AHE - 3.5 G
http://www.mediafire.com/?dzt3nqazzmm
2. Arcanity Heavy Engineering
3.5 G Ships
*
Threat Usage
Ship Name: Added Weapon Costs = Used Allowance/Total Allowance (Remaining Allowance)
*
Corvettes
AHE-Gs III 01-Purple Flare
This gunship is designed to make short work of other small warships, such as corvettes and the occasional fighters. Best used in packs, it's weaponry is unusually heavy for a ship this size. It is fast and maneuverable, but it's armour leaves much to be desired.
AHE-FAC III 01-Deep Blue
The Deep Blue has undergone a severe transformation since the previous variant. Heavier armour, added missile launchers, an LBE and a PA weapon make this a formidable warship. Best used in packs, it is an excellent harasser for use against heavier ships and can easily go toe to toe with any other corvette.
AHE-AsC III 01-Swift Green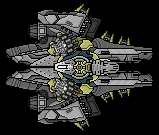 The Swift Green is the most powerful assault corvette in production. Period. It's forward firepower is unrivaled, and it's winged design allows for maximum concentration. This, however, has the drawback that it's rear is poorly defended. Smart weapons placement and 360° turrets solve this problem somewhat. It can take on frigates and destroyers on it's own, but it needs to be used in pairs or triples againt cruisers.
*
Frigates
AHE-AsF III 01-Crimson Sky
The Crimson Sky has changed in various ways: the HV missiles have been switched for missile pods, 2 triple laser turrets have been added, the KC arrangement has been changed and it's engine is more powerful. All these changes make it a potent Assault Frigate for use against destroyers and small cruisers. It can also engage other frigates in a pinch.
AHE-AsF III 02-Chrome Bandit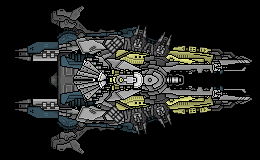 The Chrome Bandit is a powerful assault frigate for heavy duty fighting. It's powerful 12-barrel laser turret can literally pound a ship's hull with deadly accuracy. It may not be so fast, but it's proven it's power time and time again in simulations. It's drawback, however, is that it's rear is barely defended, even thought it's turret can swing 360°.
*
Destroyers
AHE-FsD III 02-Silver Strike MkII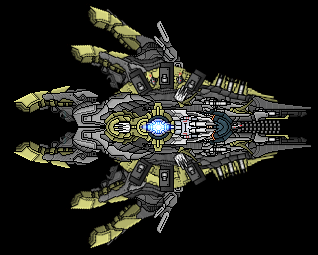 The second incarnation of the Silver Strike started out as an expansion upon the old design, but quickly became a completely different ship. Larger, more powerful and still a well rounded destroyer, the SS MkII is primarily meant to deliver fire support from medium ranges. It's well armed, but it's structural integrity is known to buckle quickly under sustained fire from multiple directions. Still, the SS MkII is an excellent harasser.
AHE-AsD III 01-Yellow Torment
The Yellow Torment is a powerful assault destroyer that can easily double as a small cruiser due to it's well rounded firing arcs. It's forward firepower can be redistributed to the sides and rear, which is well defended on it's own. It can take on destroyers and smaller cruisers on it's own, but needs to be used in pairs for battlecruisers. The only drawback of this ship is it's relatively low speed for an assault ship.
*
Cruisers
AHE-BC III 01-Amethyst Curse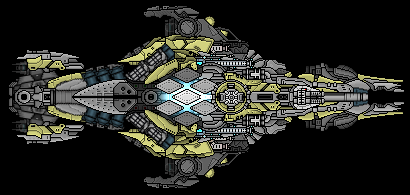 Starting out as a Battlecruiser design the AC has been reclassified as a bombardement cruiser instead. The AC is equipped with every conceivable piece of railgun artillery, cruise missiles and a dual EPC turret. It's armament revolves around two steps of operation: the railguns weaken a target internally, and the missiles and EPC's can punch away the weakened sections. The ship's drawback is that it is undefended from the rear, making this a purely offensive weapon.
AHE-BC III 02-Red Storm

Built to replace the limited Amethyst Glare, the Red Storm far surpasses the latter's firepower. It's forward weaponry is similar (yet greater in number) to that of the AC, but replaces the cruise missiles with THLC's. It is well defended by several smaller laser cannons and a 12-barrel laser turret as found on the Chrome Bandit. In all, this is the most powerful battlecruiser ever built.
*
Battleships
AHE-AB III 01-Golden Tempest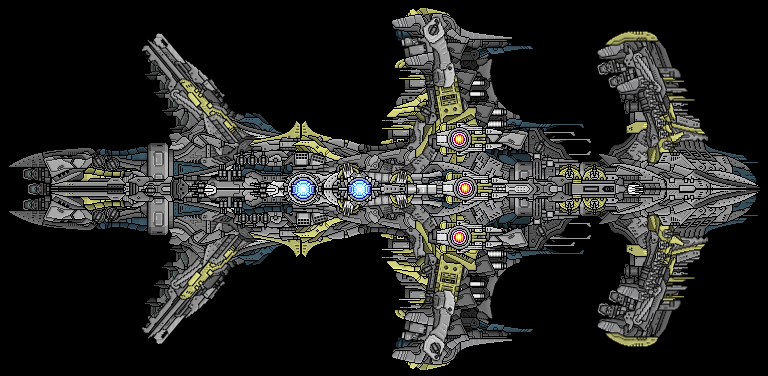 The Golden Tempest is a brawler type ship with an intelligent design; it's forward wing construction serves a dual role as gundeck and, simply put, an armoured slab that's meant to protect the second set of wings. These hold the ship's railguns and Siege Turrets. In addition to it's heavy weapons it is defended by a large complement of various laser weapons and kinetic cannons.
AHE-FsB III 01-Black Abyss

A powerful Dreadnought, the Black Abyss is meant to deliver an incredible amount of firepower from longer ranges. It's armament consists of three massive turrets each housing a different type of railgun, three Siege Railguns and a row of Kinetic Cannons, analogous to old wooden warships on earth. It's broadside is fearsome for any type of ship. This is the epitome of railgun-based ships.
Third Generation Ships
Corvettes & Frigates

Deep Blue class Anti-Strikecraft Corvette (AHE-FAC III 1-Deep Blue)

Approved

Cost: 250 AC

http://i250.photobucket.com/albums/gg255/ArcaneDude/Advanced%20stuff/SMscreen015-1.png
Threat: 50
HP: 300
Speed: 3
Accel: 2
Turning: 1.5
Armament
[size=9]x5 Autogun
x2 AFBE

Small and agile, the Deep Blue is specifically designed to wreak havoc on enemy strikecraft. With all-round firing arcs, it can stop their initial assault dead cold and finish off anything that manages to slip through it's screen of bullets and beam fire. To larger ships, however, this is nothing but cannon fodder, and it is thus intended to serve a defensive role for allied vessels.

Crimson Sky class Assault Frigate (AHE-AsF III 1-Crimson Sky)

Approved

Cost: 815 AC
http://i250.photobucket.com/albums/gg255/ArcaneDude/Advanced%20stuff/SMscreen00-1.png

Threat: 110
HP: 650
Speed: 2.10
Accel: 0.07
Turning: 0.80
Armament
7x Laser Cannon (Pulse Variant)
3x Particle Accelerator
2x LBE
1x MBE
2x HV missile pod
2x Flak Battery

Small, swift and packing a punch. The Crimson Sky is a decent assault frigate, capable of taking on larger ships in packs. Aside from advanced automation systems, such as found on 2nd Gen AHE ships, the Crimson Sky design opts for the most advanced frigate-scale weapons available; Pulse Lasers, that drastically reduce size and energy consumption, Particle accelerators, beams, HV missiles and a flak system. The CS is durable and sturdy, and has well-rounded firing arcs. It is an excellent choice for prolonged engagements.

Destroyers

Silver Strike class Combat Destroyer (AHE-D III 1-Silver Strike)

Approved

Cost: 995 AC
http://i250.photobucket.com/albums/gg255/ArcaneDude/Advanced%20stuff/SMscreen07-1.png
Threat: 150
HP: 1200
Armament
x5 Particle Accelerator
x1 TMBE (Re-focused)
x6 HV missile pod
x2 Flak Battery

As a replacement for the Lancer, the Silver Strike is a destroyer that truly signifies AHE's new design philosophy: the most advanced technology in a sturdy package. In this case, 5 PA's in all round firing arcs, an impressive missile complement and a re-focused TBE that fires a single beam at identical power to it's standard two. Due to it's missiles, the SS is effective at both long and short ranges and performs best in destroyer-category skirmishes, where it has the advantage of a first strike.

Silver Smash class Missile Destroyer (AHE-ArD III 1-Silver Smash)

Approved

Cost: 790 AC
http://i250.photobucket.com/albums/gg255/ArcaneDude/Advanced%20stuff/SMscreen038-1.png
Threat: 150
HP: 1300
Armament:
x6 Heavy Missile Pod (10-tube variant)
x6 HV Missile Pod
x1 Cruise Missile Pod

The Silver Smash is a missile destroyer that uses the latest in missile technology: HV missiles, Heavy Missiles and Cruise Missiles. It was based on the Silver Strike inner hull, while the outer configuration was changed to provide room for missile storage. In close combat, the Silver Smash is vulnerable from the rear, but it can deliver an obscene amount of damage from long ranges. This destroyer is by far the most powerful and versatile in it's class. It's only weakness, however, is the sacrifice of AF defense and PD to accomodate the changes.


Cruisers

Emerald Glint class Heavy Cruiser (AHE-FsC III 1-Emerald Glint)

Approved


http://i250.photobucket.com/albums/gg255/ArcaneDude/Advanced%20stuff/SMscreen034-1.png
Threat: 220
HP: 2250
Armament
]x2 EPC
x2 Heavy Alliance Railgun
x6 HV missile pod

Even though the railgun system is much less powerful than AHE engineers predicted, building a ship with these weapons as it's primary armament became a top priority. The first result of this goal is the Emerald Glint; a powerful cruiser that uses a one-two punch Heavy Railgun system. Both guns have very good firing arcs, giving the Emerald Glint very good survivability. In addition to it's railguns, the EG carries clusters of HV missile pods and two Explosive Projector Cannons. AHE's next objective will be to design a more efficient powergrid for the EG's successor, the Amethyst Glare.

Amethyst Glare class Battlecruiser (AHE-BC III 1-Amethyst Glare)

Undergoing Revision


http://i250.photobucket.com/albums/gg255/ArcaneDude/Advanced%20stuff/SMscreen033-1.png
Threat: 300
HP: 3000
Armament
x4 Standard Railgun
x3 Heavy Railgun
x10 HV missile pod
x6 Flak Battery

Designed as the successor to the Cuzco and the bigger brother of the Emerald Glint, the Amethyst Glare is infinitely more powerful than either one. It's advanced railgun armament allows it to engage enemy vessels at a greater range than any known ship of similar size, and gives it the advantage of being able to effectively de-claw it's opponents. As a result, it outguns any other known battlecruiser, and is most likely on par with even the heaviest battleships. It has already earned it's nickname of 'mini-dreadnought' amongst AHE engineers.

The drawback of it's railgun-directed powergrid is that it is incapable of carrying a decent secondary weapons grid, barring it's missiles, although this has been deemed irrelevant in the Amethyst's case.

Red Storm class Battlecruiser (AHE-BC III 3-Red Storm)


Unapproved



http://i250.photobucket.com/albums/gg255/ArcaneDude/Advanced%20stuff/SMscreen04-2.png
Threat: 300 --> 1950 Equipment capacity
HP: 2700
Armament
3x Heavy Alliance Railgun (3*100 threat usage)
3x Explosive Alliance Railgun (3*100 threat usage)
4x Standard Alliance Railgun (4*75 threat usage)
3x EPC (3*100 threat usage)
6x THLC (6*50 threat usage)
17x Laser Cannon (17*10 threat usage)
12-barreled Laser Turret (12*10 threat usage)
6x HV missile pod (6*25 threat usage)
TOTAL CAPACITY USAGE: 1940

The Red Storm was designed to make up for the limited capabilities of the Amethyst Glare. It's power grid was upgraded, and thanks to a heavily shielded Coeur De Lion reactor the Red Storm carries over twice the firepower and versatility than the Amethyst. It's armour is lighter, in turn, but that doesn't stop the Red Storm from being the most powerful battlecruiser built to this day.

Support Ships

Katharsis class Repair Craft (AHE-RC III 1-Katharsis)

Approved


[g
URL]http://i250.photobucket.com/albums/gg255/ArcaneDude/Advanced%20stuff/SMscreen02-2.png[/URL]
Threat: 170
HP: 700
Armaments
x4 Particle Accelerator
x6 AFBE
x2 Flak Battery
Equipment
x2 Nanobot repair facility

A trueborn successor to the Nightingale, the Katharsis was based on it's predecessor's design, due to it's popularity under the nickname 'church organ'. The Katharsis is equipped with 2 repair facilities that can serve Alliance fleets in the midst of battle. In addition, it is armed with 4 360° particle accelerators, giving it decent cover when conducting repairs and defending it's 'patients'.
Second Generation Ships
Decomissioned
Cortez Beam Frigate
Lancer Destroyer
Waldemar Strike Carrier
Hannibal Missile Cruiser
Cuzco Battlecruiser
Gaia Battleship
Quetzalcoatl Supercarrier
Krishna Superbattleship (unreleased)
Amon-Ra Drone Command Carrier
First Generation ships
Decomissioned
Lassard Defense Platform
Bozeman Destroyer
Hoover Battlecruiser
Genghis Khan Missile Cruiser
Nightingale Repair Craft
Madre Terra Battleship
3. AlphaTec
A relatively new corporation and a subsidiary to AHE, Alfatec researches and builds mainly non-combat craft and support vessels. It also builds energy weapon- based warships for AHE.
(Ships soon to come)
4. Salazar Industrial
Salazar Industrial has recently been added to the (now newly formed) Arcanity Conglomerate. It builds energy weapon based warships for service in the Alliance fleet.
(Ships soon to come)