Pathfinder/Manica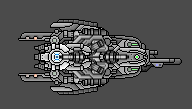 MASS: 7225/7225
ARM PRI.: 2x Autocannon
ARM SEC.: 2x Vulcan
MOD.: Imperial Networked Sensor (SenStr 50, ScanSpd 2)
SPD: 2.42
ACC: 0.03
TRN: 0.67
A light sensor ship, the Pathfinder (or
Manica
, as it's known in the Remnant Navy) is a new, post-Collapse design. It employs a special sensor module using pre-Collapse technology that functions as a Standard Sensor alone, but gains an extra 5 Sensor Strength per additional Pathfinder present in the same fleet, and an additional point of Scan Speed if there are three additional Pathfinders in the same fleet besides the current one. Thus, the Pathfinder is frequently employed in groups of four or five, all co-ordinating their sensor sweeps for maximum efficiency.
Effective Sensor Strengths and Scan Speeds:
1x Pathfinder: 50 SenStr, 2 ScanSpd
2x Pathfinder: 55 SenStr, 2 ScanSpd
3x Pathfinder: 60 SenStr, 2 ScanSpd
4x Pathfinder: 65 SenStr, 3 ScanSpd
5x Pathfinder: 65 SenStr, 3 ScanSpd
etc. etc.
Att.:
Pathfinder on the move.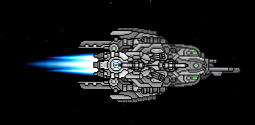 ~~
Bloodhound/Balteus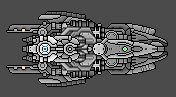 MASS: 7225/7225
ARM PRI.: 2x Ion Repeater
ARM SEC.: 2x Missile Launcher
SPD: 2.42
ACC: 0.03
TRN: 0.67
A modification of the Pathfinder, the Bloodhound (known as the
Balteus
in the Remnant Navy) handles almost identically, thanks to very careful balancing of the ship's thruster output. It's primary purpose is to escort the Pathfinder - a task in which it excels. Acting in packs, the Bloodhound launches missile volleys as it closes in to make use of it's two Ion Repeaters.