Ok, so now for an update on all the changes done to the last three ships. Note, all ships now have been made so that destruction of the Main Engine decreases the movement efficiency by 50%. That means, speed, acceleration and turning are cut in half. Destruction of secondary engines reduces efficiency by 25%. Destruction of all three engines completely stops the ship from moving. Also, the HP of all weapons is equal to that of the Core. However, though the HP of the thrusters and Point Defense weapons is increased, it is also still pretty low. For PD weapons, its only 50 HP. For the thrusters at the engines, the main engines have the most HP and the secondary have half the HP of them. Max for the main engine in the Borges is 300 HP, meaning that in the other two the HP is even lower.
First, the Roland Fire Support Frigate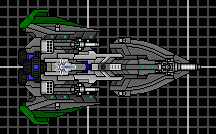 Zoomed
2X Kinetic Cannon
2X Heavy Missile Array
4X Anti-Fighter Beam
1X EMP Cannon
1X Flak Battery
1X Battle Cannon
Stats:
HP: 850
Acc: 0.75
Spd: 4
Turning: 1
Size: 103.58
Since last time it was shown, this support frigate has sacrificed its defensive weapons (except for the lone Flak battery) in exchange for one EMP Cannon. I also increased the range of the EMP Cannon so that the ship wouldn't have to get so close to the enemy to deliver its shot. However, to balance this out I increased the energy quantity and requirements of the EMP Cannon without increasing the regeneration rate so as to make it take alot longer to recharge. I increased range by 400 so I increased the energy requirements by 400.
Now the Borges Assault Destroyer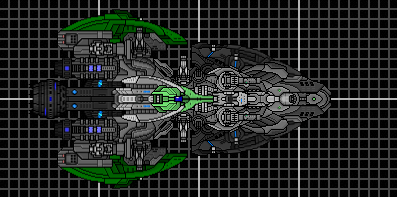 Zoomed
2X Missile Array
4X Autogun
2X Particle Accelerator
1X Interceptor Beam
3X Flak Battery
4X Anti-Fighter Beam
2X Automatic Kinetic Cannon
1X Medium Beam Emitter
Stats:
HP: 1400
Acc: 0.50
Spd: 4
Turning: 1
Size: 153.06
This one received a defensive upgrade by including two additional broadside Autoguns. Besides that, not much has changed.
Finally, the new ship. The Mistral Gunship. Only the zoomed version is present due to its small size.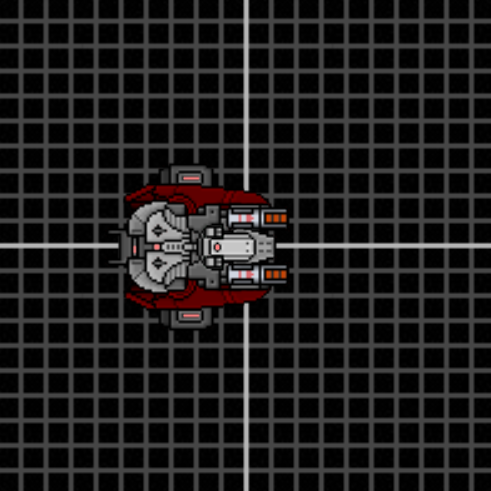 2X Torpedo
2X Anti-Fighter Beam
2X Light Kinetic Cannon
Stats:
HP: 175
Acc: 1
Spd: 8
Turning: 2
Size: 39.81
This one hasn't suffered much change. Basically the same as last time.