Ok, some more development in my semi-modular-destroyer/frigate-thing!!
This is the basic hull i have nicked off the earlier ship.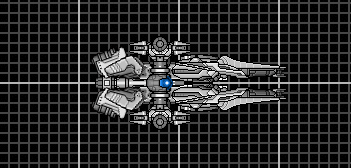 First new loadout, a pair of particle rifles, quadruplet of gatling blasters, and two normal hestia like deflectors.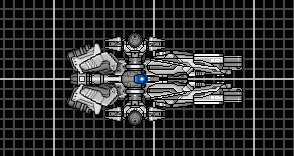 Second new loadout, a pair of mini missile launchers, four beamers, two gluon bolters.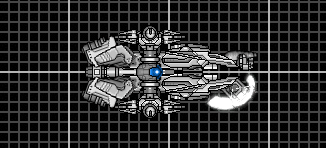 Third, a shock beamer, pair of minibeams, four low power low penetration railguns, and my personal favourite, the brand new Rugdumph Industries Hoplon Shield!

ok it's just a blocky bit with two curvy bits which are aegised. However unlike a aegis spam ship doesn't mess up the ai since i've found during weapon balancing testing which i laboured over for three hours, is that under sustained fire the parent support of the shield still takes some damage through the aegis of the other sections

. Ok it doesn't sound that great but whatever.
Finally the whole lot so far out on patrol/cruise/joy-ride/etc
I'm not shading these grayscale just yet since i'm going to experiment with finding me some fleet colours since i may build on these, since they seem to be my best foundations so far.