Hydrovian Collective of the High Desert
Backstory
The Hydrovians are a humanoid race of pragmatic survivors currently in search of hospitable desert worlds to colonize. Their past is violent and scorched with the radioactive inferno of a thermonuclear conflict lasting generations. What remains is a high desert, littered with the wreckage of mechanized armies and the ruins of cities.
Physical Traits
Hydrovians are quite similar to humans, though over the centuries since the Great Nuclear War ended, they have adapted to the harsh life of the desert in which they reside. They are well adapted to radiation, rapid temperature changes and lack of water. The main aesthetic differences between Hydrovians and humans are their lighter skin and faintly glowing eyes.
Politics
Hydrovians tend toward peaceful negotiation than war, but they will not hesitate to fight if they feel their livelihood is being threatened.
Tech
Hydrovian technology is patchy at best. While they were able to save some research from before the War, much scientific progress was lost. Their main strengths are in the areas of indoor climate control, particle physics, metallurgy and the brewing of alcoholic beverages.
Homeworld
The Hydrovian homeworld of Orovad is a roughly earth-sized planet, mostly covered by an irradiated, mountainous high desert. It is windy, invariably dry, and temperatures range from 145°F (62.7°C) during the day to -20°F (-28.8°C) at night. It orbits the extreme inner rim of its star's habitable zone, having been knocked from its original orbit by several large nuclear blasts. It has two medium-sized moons and a set of brown-grey rings of debris thrown up during the War.
Locale
The HCHD can be found in the Invio system among two other planets, roughly
here-ish
(if that is ok with everyone). They have their sights set on a neighboring binary system consisting of a white dwarf and a neutron star, as well as several dense asteroid belts. The second system is known as Ferrionis.
Ships
Hydrovian ships are generally small, fast, and not too terribly good at turning, with an all-or-nothing armor scheme. Most are based on a common base hull in order to ease production and repair. They are armed with red lasers and short-ranged, wide-dispersion particle accelerators. They typically have little in the way of point defense. They are generally painted a sandy color.
Convolution Class Corvette
Attachment:
File comment: Convolution Class Corvette

SMscreen00.png [ 7.42 KiB | Viewed 1639 times ]
HP: 175
Speed: 3.5
Turning: 0.75
Acceleration: 0.09
AI: Flanking
Size: 62.80
Loadout:
2 x Sandblaster Muon Shotgun
2 x Light Red Laser
Depredation Class Destroyer
Attachment:
File comment: Depredation Class Destroyer
SMscreen02.png [ 4.76 KiB | Viewed 1639 times ]
HP: 200
Speed: 3
Turning: 0.65
Acceleration: 0.07
AI: Flanking
Size: 59.20
Loadout:
1 x Heavy Red Laser
2 x Sandblaster Muon Shotgun
4 x Light Red Laser
Conflagration Class Assault Carrier
Attachment:
File comment: Conflagration Class Assault Carrier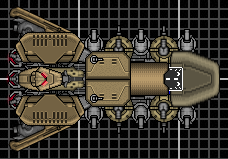 SMscreen01.png [ 14.54 KiB | Viewed 1639 times ]
HP: 325
Speed: 2.5
Turning: 0.5
Acceleration: 0.03
AI: Broadside
Size: 163.77
Loadout:
25 x Strikecraft
4 x Sandblaster Muon Shotgun
6 x Heavy Red Laser
4 x Medium Red Laser
3 x Light Red Laser
2 x Flak Gun
Strikecraft stats:
Speed: 7.5
Turning: 2.5
Weapon: Cannon
Damage: 5
Ammo: 25
RoF: 5
Range: 400
Inundation Class Battlecruiser
Attachment:
File comment: Inundation Class Battlecruiser
SMscreen03.png [ 16.21 KiB | Viewed 1639 times ]
HP: 225
Speed: 2.5
Turning: 0.5
Acceleration: 0.05
AI: Broadside
Size: 163.77
Loadout:
6 x Sandblaster Muon Shotgun
8 x Heavy Red Laser
4 x Medium Red Laser
3 x Light Red Laser
2 x Flak Gun
Changelog
Changes/additions to come (Feel free to make suggestions!)
Download