FOUNDATION
The tale of the Republic of Eden begins several decades ago, with an offshoot colony of humanity.
*FULL DETAILS PENDING*
---
SCHISM
Over the past few years, groups of the Old Republic's leading caste began to have strong disagreements on certain matters. Inevitably, these disagreements sparked into full-blown conflict, with the Republic almost torn apart by civil war.
*FULL DETAILS PENDING*
---
REFORMATION AND STRUCTURE - IMPORTANT SUBFACTIONS
With the Republic slowly rising and recovering, it's important to keep in mind the current major 'factions' within it.
Republic Security:
A slightly politer way of saying 'armed forces', Republic Security is assigned to guard and patrol the Republic's borders.
*FULL DETAILS PENDING*
---
TECH
The New Republic predominantly uses energy/particle beam weaponry. They also make limited use of unguided and guided rocket-propelled munitions, and intelligence reports suggest they are developing remotely-controlled fighters.
*FULL DETAILS PENDING*
---
SHIPS
R.O.E. Wisp-class Fighter-Bomber Strikecraft
*IMAGE DATA UNAVAILABLE*
A super-compact fighter drone based off a starship assembly remote, the
Wisp
carries a pair of high-powered anti-capital missiles ideal for taking out enemy warships.
Special Feature:
Remote Control
- Unlike most strikecraft, the
Wisp
is controlled remotely from its mother-ship by a pilot using a special control interface. As it does not need to support a pilot, it is more compact and maneuverable than other strikecraft, without sacrificing offense or defense.
---
R.O.E. Consul-class Aero/Space Gunship
*IMAGE DATA UNAVAILABLE*
An ultralight gunship capable of withstanding re-entry, the
Consul
mounts a pair of rapid-fire Red Lasers, two rocket pods, and two
A/STA/S-III
missile launchers. It cannot achieve escape velocity on most worlds unless they have exceptionally low gravity, but may use specially-designed boosters or docking clamps to 'ride' out of atmosphere attached to larger vessels.
Special Feature:
Gyro-Control
- A holdover from Old Republic
Legion
Gunship designs, the
Consul
's maneuver array allows it to remain facing its intended target at all times.
---
R.O.E. Emissary-class Scout Aero/Space Flyer

Size:
70.24
Capable of both withstanding re-entry
and
achieving escape velocity, the
Emissary
is a fast and agile scout craft, though it is also somewhat fragile. The
Emissary
is primarily used to scout out new worlds, quickly carry important individuals or vital cargo in relative safety, and patrol the Republic's borders. It is believed to be armed with three weapons total: two short-range, rapid-fire beams; and one larger, slower-firing beam. More combat-oriented designs are reported to replace the passenger/crew space with mounts for additional rocket/missile turrets.

Special Feature:
Battle Damage
- the tips of the forward arms can be destroyed by enemy fire, revealing a small amount of the fragile understructure and components. These sections have only 40 HP, so they won't act as extra armour.
---
R.O.E. Envoy-class Multi-Beam Frigate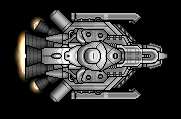 Size:
76.30
Crude in appearance compared to the sleeker
Emissary
-class, the
Envoy
-class was designed by refitting Old Republic mining haulers; robust yet maneuverable vessels designed to harvest ore from asteroid clusters. The processing area was stripped out, allowing for the installation of a larger reactor and a munitions area for forward-launched rocket and missile weapons. The mining beams have been replaced with small beam emitters perfect for engaging enemy fighters.
Now armed with multiple smaller beam weapons, special maneuver jets, and an overcharged reactor, the agile and maneuverable
Envoy
-class Multi-Beam Frigate is ideal for engaging groups of smaller craft, but cannot focus the majority of its weapons on a single opponent. As a result, it is frequently assigned to protect the
Negotiator
-class and
Projector
-class ships.
Special Feature:
Heavy Armour
- the
Envoy
-class is surprisingly durable thanks to its superheavy side plates, which can absorb considerably more punishment than one might expect. Given the presence of the munitions bay, a frontal attack is also unwise...
---
R.O.E. Negotiator-class Beam Destroyer
*IMAGE DATA UNAVAILABLE*
As its classification implies, the
Negotiator
packs an oversized beam weapon designed with the sole aim of engaging and crippling larger enemy warships. It has little in the way of weaponry besides its primary beam emitter.
Special Feature:
Big F'ing Gun
- The
Negotiator
's oversized cannon is not something you want to be hit by.
---
R.O.E. Diplomat-class Prototype Strike Carrier
*IMAGE DATA UNAVAILABLE*
Capable of deploying swarms of remotely-controlled strikecraft, the
Projector
is the New Republic's first foray into such craft. In order to cut down on pilot losses (and crew training costs) - a distinct departure from the Old Republic's approach to small craft - the craft are controlled from within the safety of the carrier itself by a team of specially-trained individuals.
Special Feature:
Battle Carrier
- As the
Diplomat
is only required to service and maintain a fleet of drones as opposed to an entire crew of pilots, it can afford to devote additional tonnage to offensive, defensive, and passive systems. As a result, it is generally better armed, armoured, and more maneuverable than other carriers of the same size class - without sacrificing strikecraft launch capacity.
---
R.O.E. Delegate-class Beam Cruiser
*IMAGE DATA UNAVAILABLE*
Expected to fulfill the role of standard-line warship for the Republic, the
Delegate
-class is an all-new design planning to incorporate both fixed and turreted beam weapons, possibly backed up by missile or rocket weaponry.
Special Feature:
Undefined
- Data Pending
---
R.O.E. Ambassador-class Battleship
*IMAGE DATA UNAVAILABLE*
The New Republic's new heavy warship, the
Ambassador
-class is a well-armoured ship that is armed with powerful beam cannon battery turrets. It also carries a small complement of the Republic's new
Wisp
fighters, though not as many as the
Projector
. True to its name, however, the Republic does not intend to deploy its
Ambassador
-class vessels except on the most vital of diplomatic missions, and only then to ensure the safety of Republic personnel.
Special Feature:
Undefined
- Data Pending
---
Template for adding new ships;