This is to show new members some of the "not so obvious" manipulation tricks available in shipmaker.
Here we have our sample ship.
Attachment:
File comment: Sample Ship
SMscreen030.png [ 1.97 KiB | Viewed 2199 times ]
Multiple Section Movement
If you hold "ctrl" in addition to "shift" and a directional arrow key to move a section (with that section selected), you will move that section and all of its children.
Two sections in the sample ship have been moved upwards 10 pixels. It also moved their children.
Attachment:
File comment: 2 Sections Moved
SMscreen033.png [ 2.76 KiB | Viewed 2199 times ]
Multiple Section Rotation
With a section selected, it can be rotated by pressing "J" or "K". If "ctrl" is held when these keys are pressed, all of that section's children are rotated with it, but maintain their orientation to their parent. This only works properly with section move/rotation step set to "normal".
Two sections have been rotated by degrees. Their children followed.
Attachment:
File comment: 2 Sections Rotated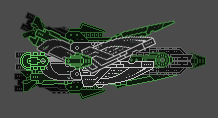 SMscreen034.png [ 7.98 KiB | Viewed 2199 times ]
Rapid Recolor
With a section selected, you can recolor that section and all others that have the same color to another color. With the section selected, hold "ctrl" and right-click on the color that you want to use. A menu will open. Select "fill". All sections with the same color as the selected section will become the color that you picked.
Preformed here using bright red.
Attachment:
File comment: Quick Recolor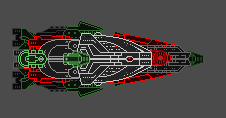 SMscreen035.png [ 2.07 KiB | Viewed 2199 times ]
Weapons Under Sections
Shown with orange weapons for clarity.
This is called "depthing". With a weapon selected, press the W key. It will still be on top of the section that it is parented to, but will be below all sections above it.
Warning: Don't depth weapons until AFTER you mirror them. Depthing them before mirroring them will create an error that makes your ship unplayable in the sandbox. (It is fixable, but this is how it can be avoided).
Attachment:
SMscreen037.png [ 2.46 KiB | Viewed 2199 times ]
Digging Through Sections
If you hold "ctrl" when selecting a section, you can continue clicking to cycle your selection through all the sections that are underneath it. This way, you don't have to move around sections to access the one that you want.
Moving the Background
You can change the background in the shipmaker in the menu along the top bar. There is an option called "change background". If you have the core of the ship selected, you can move the background using T (up), F (left), G (down), and H (right).
Enjoy. Post more tricks that are "less commonly known" if you like.
Zalausai
_________________
Has written a series of tutorials for the newbies
Zalausai's Tutorial Index
Created:
Elements of Discord
, Heaven's Grace, and Hell's Last Battalion.
I stop in from time to time to check in on the community. Though I don't spend much time with shipmaker anymore, I can take requests or write a tutorial for someone.
Proud parent since: 8/15/2013 (Baby Boy)
Good shipbuilders never die . . . they just fade away.