You will note that the only insult I actually used was calling you "inept", which is demonstrably true, so don't whine at me about being insulted, because you have no idea how insulting I can be when the mood comes upon me.

I'm not comparing my ships to your ships. I'm comparing anyone's concept of good ships to yours. But you are a newbie, so most of these mistakes are... somewhat forgivable.
The inability to make proper turreted sections I do not think is forgivable. There are plenty of people who explained it out there. But since it seems you're too lazy to go through the forums and look for said explanations and guides, I'll give you a step-by-step instruction. With pictures. Because I'm feeling generous.
Let's start with these turrets of yours. These horrible, horrible, turrets that you did entirely wrong.
Here's what I'm starting with. An incoherent mess of triggers and linking and horribleness.
So I clear up all that. I don't know what on earth you did, because I had to actually delete one of the weapons and replace it to get one of those arrows to disappear. All the triggers on the section are turned off. I've made the guns visible again. I'll set the alpha for them back to 0 once I've fixed this mess.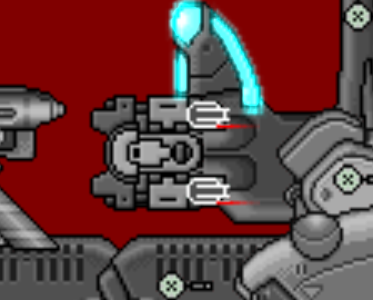 The next step is easy enough. We take a gun with the exact same parameters as the two on the weapon, and we place it HERE. Note that it is not parented to the section it is meant to guide. It is parented to the section that the "turret" is parented to.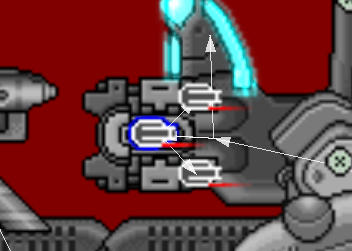 Now, this weapon is just to guide the turret. We don't want it shooting. So we go to the ED2 Tab and set "Shooting" to "disabled".

Then we link the two weapons on the "turret" to that main gun. Like so.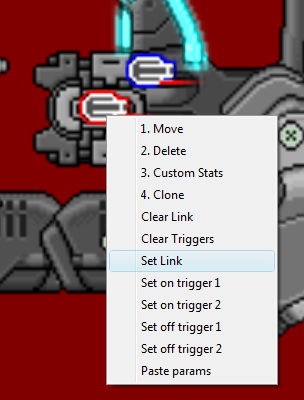 Now if you've done it right, it should look like this:
And finally, you select the turret section itself, the bit you want to get aimed about, right-click on the central gun, and select "Set Driver", like so.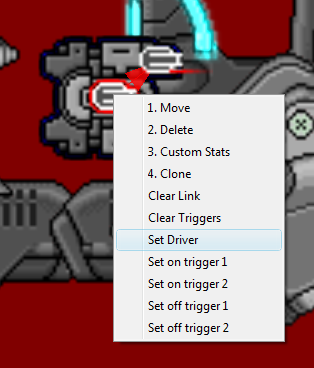 Now you set all the weapons to being alpha 0, and it looks like so: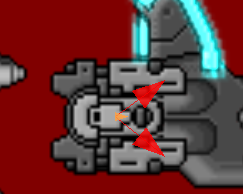 That's it. That's everything. That's all you need to do. No triggers required. What's important to remember is that the gun that aims everything CANNOT BE PARENTED TO WHAT IT IS MEANT TO BE AIMING. Otherwise shit will fuck up horribly. I hope this has been educational. If you'd still like me to fix everything up for you, I'll do that later. And I might even put up some more educational guides to explain some of the things that obviously you need explained.
_________________
Founder and Event Coordinator for the BSF Beauty Pageant. Founder of the Pseudo-Chainship Project. Admin. Games Master.
Quality Control Enforcer
Gay cute girl and fucking proud of it.