I apologise, it's just that things are a bit hectic and we've been getting a lot of questions.
I'll start with the basics;
A
driver
is a weapon which
drives
a
turretsection
, telling it where to 'look' or aim. Drivers also act as the target acquisition for linked weapons. To set a driver, you select the section you want as a turret and right click the driver weapon and hit "set driver".
A
rotsection
is a section which is set to, unsurprisingly,
rotate
. Anything that's attached to them will rotate too. Rotation settings are under the ED2 menu in Shipmaker. Rotsections can be used to make spinning helicopter blades, for example.
A
turretsection
is, as explained before, a section that is directed by a driver. Turretsections are usually used to hold weapons. Example;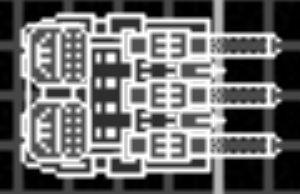 Finally, drivers are also used to direct weapons to fire. This is a bit more complex. Each sub-weapon needs to have it's clip, reload and fire rate set to 1, to prevent glitchy behaviour. You set the damage and other specs like range, beam duration, etc. as desired. Select the weapons and
link
them to the driver with the right click menu. The driver should have the reload/clip/fire rate settings for the weapons, as well as a similar range as it basically feeds them targeting data. In this fashion, you can make a big gun turret that is like a normal turret, but fires multiple seperate projectiles or beams, and special behaviour (such as delayed fire between barrel shots for ripple fire) too.
Triggers are far more complex, and I'll leave them to someone with far more experience to explain.