Doogie12 wrote:
On those glows, you may want to tone down the alpha to 0.3 or 0.2 (play around and see what looks best) and set the scatter to 1.
The result with the way you're using will look like
this
I tried playing around with that recentley,using this ship as an example.
Original:
Attachment:
Edited version:
Attachment: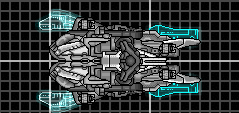 SMscreen031.png [ 12.91 KiB | Viewed 848 times ]
It looked nice,but it made it looks sorta like glowing glass rather than a glowing highly resistant material,ill probably change the alpha on the others too,but only if it looks good on the ones that have more of them.
Also.I re-applied to DGW recently.