Call me ambitious, but making ships so me is a product of my imagination; therefore, I need a roleplay for my imagination. Eventually, these ships will be involved in a Roleplay/game I'll start soon, but I still have to workout the details.
EDIT: Well, it's started, check it out
Here
It's never too late to sign up! It's got some stories worth reading in there too, if you're not into the whole RP thing.
For now, the only thing that exists here are fighters. I'll work it from the ground up.
Anyway, I won't bother posting the original ships I built with the default sprites unless anyone requests them.
Randall Industries
After the collapse of the inner ring, Randall, a small civilian craft manufacturer based in the outer ring, started to produce armed craft for its own protection. Soon, more buyers appeared, and Randall has a steady income from multiple planets in the outer rim.

This here is Randall's first manufacturing-ready model: The E-7R Missile Fighter. E is for Entry model, 7 is the total number of revisions, and R is for Randall. This fighter relies on two slow-yet-maneuverable missiles to down opponents. One interesting note is the fighters ability to enter atmospheres and be instantly capable of fighting air to air.

At
Kebert Xela's
suggestion to start building bigger ships, Randall has released it's first corvette model. Able to mount two light weapons in the back, it is a solid close-range escort craft.
Balkan Corporation
Balkan Corporation existed before the collapse of the inner ring and was a business superpower back in the day. Now that society in the inner ring has all but collapsed, the Balkan Corporation has lost nearly all of its schematics, money, and blueprints, as well as a couple handfuls of CEO's, and a couple million employees.
Nevertheless, the surviving businessmen of Balkan board are determined to reclaim all the money they've lost.
Balkan designed their fighter around a common shotgun. This "space tank," as it was promptly nicknamed, puts out numerous flak rounds at once in a wide spread. Balkan cleverly saves money on manufacturing by overlooking a paint job.
Aces of the Outer Ring
Vladimir "

Akula

" Markov

Vladimir served in his planetside militia as a child. There he saw tax collectors burn his neighbor's house down for inability to pay taxes, corporate dropships sacking cities in the relentless pursuit of money. Vladimir waited for his opportunity, and eventually got his hands on a E-7R fighter. With the help of his comrades, he was able to make some deadly modifications, and some sympathetic ones, like painting the hull of his craft red in honor of all blood his friends and family shed. After a few sorties, He earned the nickname "Akula" for his sharklike-precision and awareness in the skies.
Special:
Red Missile: A very fast missile fires from the front of Markov's plane. Good for long-range or precision attacks.
Jeff "
Wolfram
" Cormag

Jeff Cormag grew up on the backburner. On moon riddled with petty conflict Jeff was often kept out of the way for fear he might get injured. Jeff observed revolt after revolt. Each uprising's idea didn't seem to matter, each caused only more strife and suffering. At the age of twenty, Jeff sold his property to purchase Balkan's Flack Fighter and painted it a gung-ho army green, as well as placing the turret on a 360 degree swivel and doubling the amount of shots fired in one burst. He used it to instill order in the population, eventually earning the nickname "Wolfram" for his dog-like instincts and watchful eye. Now, five years later, he sees the collapse of the inner ring as an opportunity to spread law and justice to the galaxy.
Special:
2X shots fired
360 degree turret rotation.
Wessly "Yellow" Royce

Educated in peace, Royce was on track to graduate from the Outer Ring's most prestigious engineering university, only to drop out. Sick of his professors and peers taking credit for his ideas and research, Wessly turned his brilliance to another one of his passions: Warfare. He crafted his own space fighter, more maneuverable than his professors would dream of and equipped with rail-gun technology thought impossible to replicate after the collapse of the inner ring. Wessly painted the hull yellow: the color of foreboding, and goodbye.
Goodbye to his enemies, that is.
Fueled with ruthless ambition, Wessly seeks to leave his mark on outer-ring history.
Special:
Rail gun
???
Walker Relay Station
The Walker Relay Station has not currently been contacted since the collapse of the inner rim, but the heat signatures on board indicate the crew survives, but may have no way to communicate with the outer ring.
A note about the design of the station:
Weapons were placed far away from the station to minimize damage to equipment as well as personal. This strategy does seem to be effective at saving lives, but ineffective as the point defense guns are often skewed to protect a certain side.
Warlock
Rumors of a moniker "Warlock" have floated around the outer ring. Some say he has single handedly downed entire squadrons of military craft before the collapse of the inner ring. Some say it's an alien craft that has warped here through a black hole. Some say Warlock is only a myth. And some say he's just as mysterious as he is powerful.
IPAF Support Destroyer.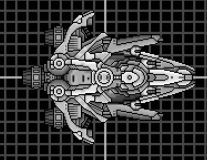 Before the collapse of the inner ring, the Inter-Planetary Allied Forces constructed a powerful peacekeeping navy. Above, is the recovered blueprint for the IPAF Valkyrie, a support destroyer that sports two heavy beamers, two light beamers, and a rack of long-range anti ship missiles. The very existence of the IPAF remains in doubt, but there must surely be something to learn from their imprint on the past.
Remnants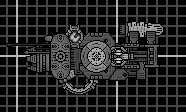 Remnants are the civilian survivors of the collapse of the inner rim. The few that owned transport and frigate ships quickly armed their ships with what little weapons the could salvage. As a consequence, their weapons and in-experienced crew translate to longer reload times, smaller clip sizes, and ineffective tactics.