Well how about another small ship then!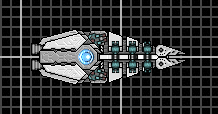 One beam at the front, two gatling blasters on the flanks, and 6 broadsiding anti-fighter/flak-saturation gatling pulses, all specced up or down to my own liking.
A bit generic but creativity is clashing with RL and RL is beating it to a pulp. But i am kinda proud of my first use of the shipwrightizator on a couple of sections i couldn't find SW versions for, one of Blackhart's and another of...i think AidenAdv's? I'm pretty certain from the AA file heading but it's hard to keep track once their all dumped into folders

. Oh! also first time of using layered beams, i know it's actually rather basic but it suddenly occured to me i'd never done it.
Edit:
Now i know i'm back it full swing cause i'm editing

since i probably edit my posts more than i build ships lol.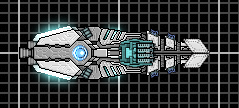 Longer ship, two triple Missile launchers on the flanks, four pulsed beamers quasi-broadside, and one nice big quad particle rifle turret in the middle. Oh and a double shot particle pd gun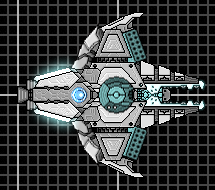 Wider ship, two 12 barrelled light Missile batteries on the wings, large pulsed beam turret in the middle, and a heavy sabot on the front which i'm still trying to get to work, since for some reason the shot stops at the first hit

obviously making it nigh on ineffective. I have widened the bullet but the length is the same so i doubt that's it...
And i know i've coloured some pieces but that was just cause it took my fancy, i haven't actually depthed shaded anything yet.
Oh and i'm not gonna put out any of these sprites before i get accused of not asking permission, they're just for my own use.
Edit:
Fiddled around with the big old cluster rocket sprite from Melv...

Think these make it clearer what those weapons actually are.
Edit:
Torpedo Frigate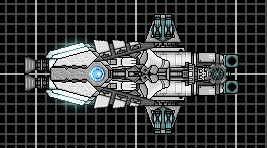 Two powerful but slow reloading and reduced range torpedoes, two dual vulcan turrets and a double shot particle PD gun.
Edit:
And another one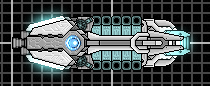 Two of the PD guns on limited arcs, 10 HVM's with a little bit of tracking and longer reload, and a nice big triple layered beam at the front, still not quite happy with the colouring of it though so shall have to fiddle. Oh and if the Missile silos get blown up you'll seen the beam generators underneath with a nice glow that can't be seen normally.