Hello and welcome to the forums. We're pretty dead, but I suspect there's some lurkers about yet.
That said, please write posts like a normal human being. Drop the "mew-" that you are compulsively writing, because its quite infuriating to read at the end of each sentence. Also try to use correct spelling and grammar, although since I doubt English is your first language I don't care so much about that.
On to your posting behavior. You have spammed the forums, a lot. Please don't. A single post containing all the questions you have is much more appreciated than 7 different topics each posing a different rambling question.
Now to shipbuilding. What we typically expect from a ship is to see a new, aesthetically pleasing, piece that you created. We definitely do not care about how powerful a ship is, since anyone can make a single beamer with 9999999999 damage per second.
Now to the ship you "built."
We sure as hell do not appreciate you taking an image from Google, badly photo-shopping it, putting it in as a single section, and passing it off as if you created it. You didn't.
Here's proof.
Attachment:
File comment: First page on google images.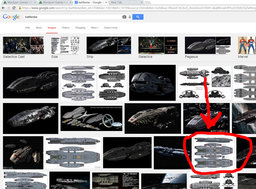 Battlestar evidence.jpg [ 762.52 KiB | Viewed 1695 times ]
Don't do it again, and change your signature (its too large).