Hi guys i am new to this game and made a ship......It's the Iowa Class Battleship from USA, it has around 3000hp, 9 x 200 damage cannons and numerous dual turrets as well as some AA guns ( basically particle gun ), most of the sprites used is created using Paint.net, but the quality is quite sluggish as you can see and i have no idea how to SWAized an existing sprites, i also used some contents from Arc Bullet Sprites ( thanks to him )......feel free to comment .......originally i wanted to make some turrets fire in a specified arc range like from 45 degree to 120 degree, but i don't know how to do that....i heard that you can do it with triggers, is that true ???

Other problems i am facing, if you know how to solve them plz tell me it'll be much appreciated
- i set the turning rate of the AA guns ( it is basically a turret with linked gun ) to 0.99 ( i heard that value below 1 can keep the gun in its alignment )....but still no luck, the guns will sometimes misbehave
- As you can see most dual turrets at the sides of the ship is facing 90 or 270 degree, but i wants them to face 0 degree and only allows to fire from 0 to 180 degree....[/color]

Sorry about my english it's not my native language
Attachments:

Pic.PNG [ 284.62 KiB | Viewed 1877 times ]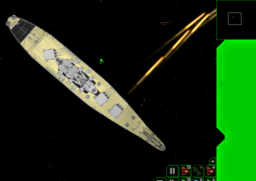 Pic 2.PNG [ 224.79 KiB | Viewed 1883 times ]
Pic.PNG [ 249.83 KiB | Viewed 1883 times ]
File comment: Extract and place the folder into your custom sprites folder, if you don't have one plz create one....
Self Made Sprites.rar [176.1 KiB]
Downloaded 103 times

Iowa Class Battleship.sb4 [23.98 KiB]
Downloaded 120 times

Iowa Class Battleship.shp [20.97 KiB]
Downloaded 123 times
Last edited by Allen323 on Wed Mar 18, 2015 8:38 pm, edited 1 time in total.