I decided to make a few ships,but they aren't exactly gems so I don't think a download will be needed, but I might as well upload some pictures.
Attachment:
SMscreen045.png [ 5.89 KiB | Viewed 1568 times ]
A small little frigate I made in my spare few minutes
Attachment:
SMscreen050.png [ 3.63 KiB | Viewed 1568 times ]
Another one,this one my actual first ship.
Attachment: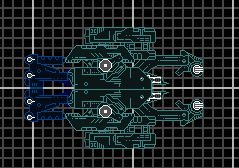 SMscreen046.png [ 5.55 KiB | Viewed 1568 times ]
A little destroyer thingy.
Attachment:
Some little heavy cruiser I made (recently discovered i had accidentally created this ship with 5 layers of itself pasted on top of it,noticed how because it almost covered itself in deflector shields in a combat test)
For the ships with the guns under the sections,sometimes one will spawn with the gun under the ship completely,any help for this?