I got bored and...
creative
with the Particle Cannon. The result of this? It is now possible to determine the angles submunitions will be dispersed at.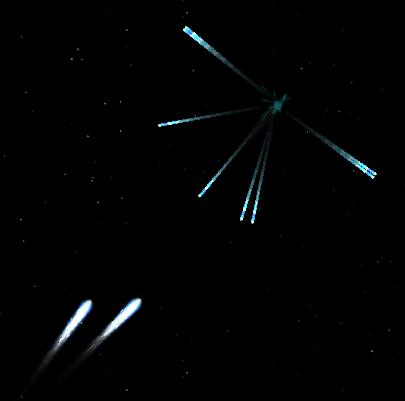 Suffice to say, it involves randomly picking between 1 and -1, and then multiplying an l_special value by that number and then randomly picking a number between 0 and that l_special value and
then
shooting off in the assigned direction. Pretty cool 'eh?
Examples;
If you set it to 180, the shots will go everywhere.
If you set it to 90, the shots will make a half-circle behind the impact.
If you set it to 0, the shots will go backwards in a small blob.
And so on! In the screenshot above, the value was set to 100 to intentionally exaggerate the angles to make it easier to tell. I'm tired, okay?

Ed:
As a sidenote, this code can (and will) be ported to the Autocannon at some point in the future. The default values will remain unchanged, of course.

Autocannon shots, however, will be projected "forwards" of the shot. Imagine a gun that fires a canister. This canister explodes mid flight, sending it's payload further forward. Simple as that. This will allow for missed AC shots to still have a good chance of damaging their target if intercepted at close range. The default spread (360) will remain unchanged.