Okay, so I've been hoarding this fleet for several months now, and I feel that these ships are refined enough. I just want you guys to thank me for this: The color scheme was a harsh yellow and solid purple before now, and that apparently wasn't cool, so I turned down the yellow.
Nevertheless, I still have doubts about the color scheme, so I need your thoughts. I'm trying to make the colors as alien as possible!
No backstory on this one. The ships just sort of happened. Screenshot time!
First up is the
Fre'Naq fighter
. So tiny that the turret detracts from the look. (This was made way, way back. I think its not the best, but its part of the fleet, so, yeah):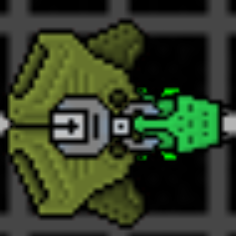 The
Que'Len Cruiser
. In my opinion, the best looking ship.

She'Lea Heavy Cruiser
:
Vim'Naqa Corvette
:
Lea'Ra destroyer
:
Some ships, then! C&C please, and if I can fix the colors, I'll get a download up.