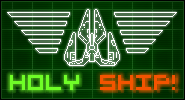 This thread will be a gallery of ships/fleets that i consider to be the very best, out of creations posted in these forums. The purpose behind this is to promote good shipbuilders, show other shipbuilders how good ships are supposed to look and what they should aspire and compare to, and having one place to keep bookmarks for all very good ships created in general.
Keep in mind that the choice of ships is entirely subjective.
Do not post comments on ships shown here, use their original threads for that instead.