The red lines are fake-aegised sections I'm using as a temporary 'chalk line' to guide me to the hull's final shape, which as you can see is a straight up
Executor
arrowhead. Projected fittings as of this point are six large turrets and twelve or more medium turrets.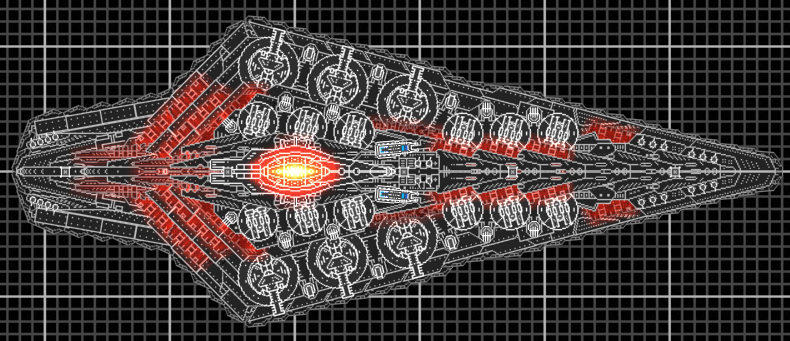 Thanks Sponge and Müg. This ship has heavy Heavy HEAVY amounts of Kaelis steampunk sections and custom sections that I designed specifically for it, and I tried to avoid crappy section usage like my last large ship. Yes she needs thrusters (of which she'll get tons, mostly alphaed) and some color (I have no idea where to start!), and those primary guns are likely to be replaced by some kind of big nasty twin turrets.
And Darch, the _only_ thing your ship has in common with mine is the overall shape, so you can go fuck yourself. Mine's bigger!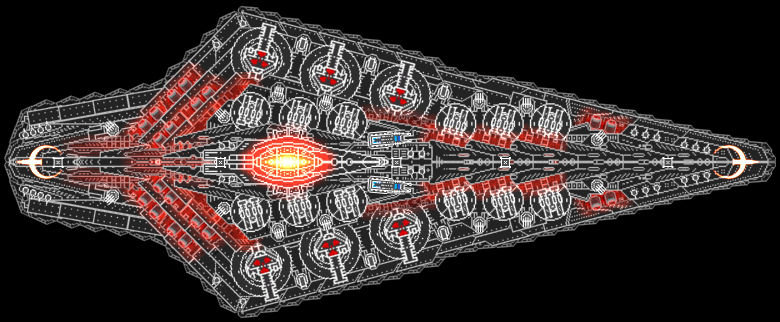 And she's done. The Eintek
Quake
.
<danny420dale>
http://www.mediafire.com/download.php?0j3xnqoimgi
nine megz but it's worth it; might wanna back up your custom sprites first.
EDIT: New DL.