I haven't joined the forum though I've made quite a few custom ships.
I'll admit I don't have the time to make intricate and delicately detailed geometric shapes (like Seraphim, o.o), although I won't say my ships are ugly.
My computer isn't really fast so bad frame rates contribute to the matter.
Anyway, here are some of 'em. (WARNING! DANGEROUSLY UNBALANCED! Lulz)
Opteron:
Yes I know it's named after the AMD processor.
Anyway, it's weapons are all modified and have names in regard to fire, such as the 'Phenom Firestream', 'Vulcan Volcano' and 'Loki Firecannon' which is being demonstrated above.
Dreamweaver MK-II
The Dreamweaver is the second of the Dreamweaver series (Dreamweaver MK-I will be shown some other time) and is outfitted with a large array of devastating beam weapons classifying it under the "Beamweaver" class ships which is a blanket term for craft built around beam weaponry such as the Oenone and Oenone Omega (one of my other designs).
Gaurdian Class Mobile Defense Platform
One of my favourites.
The Gaurdian Class Mobile Defensive Platform is an idea that sprouted from the sucess of the Peitho Battleship. Outfitted with a superthick defensive layer to weather the weaponry of some of the newest and deadliest ships, the Gaurdian can survive a long period of intense fire. Almost every incoming projectile is neutralised by its repeater pointbeams.
Fortuna Battlecruiser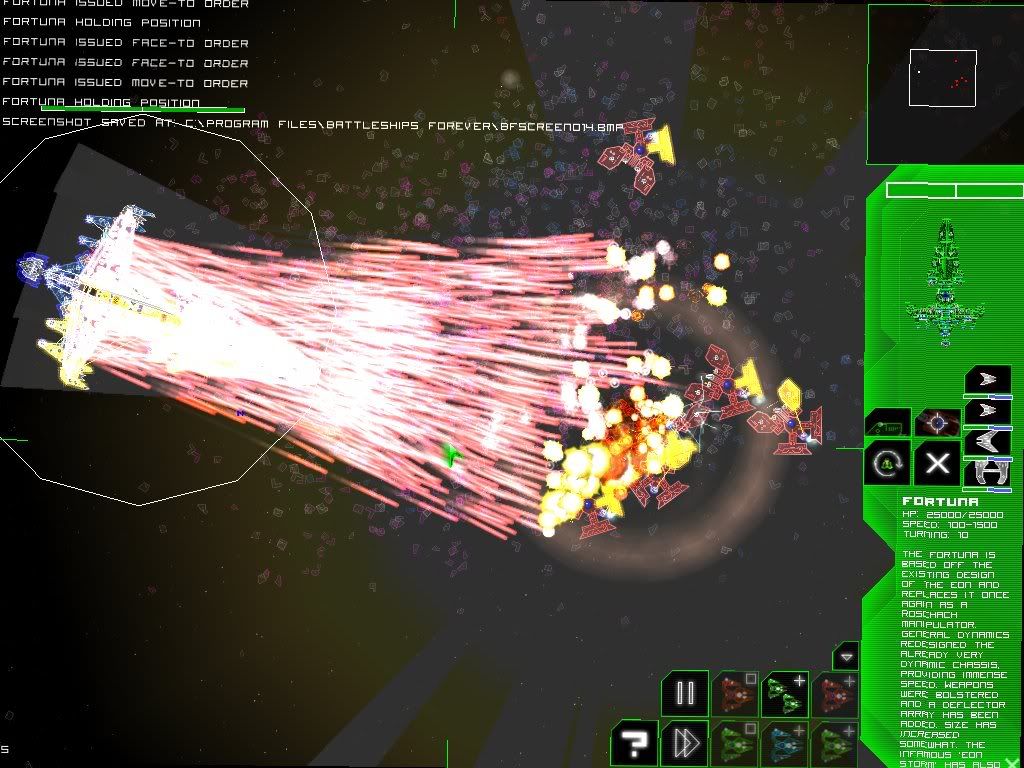 The Fortuna is a design based off the former Roschach Manipulator type ship, the Eon (which was in turn built to replace the Eos). A centralpiece of this craft is the 'Eon Storm' (which, of course, first appeared on the Eon) array of blasters which release a rapid fire hail of sprayed blasts to cast a withering web of fire upon enemies.
Deuterion II:
The Deuterion II is a monstrous craft built by Teromulus Technologies, the creators of the original Deuterion. The original Deuterion (which will probably be shown some other time) was to be a testbed for Gravitic Binding and Ranged Power Transmission (RPT) technology. Due to the need for spacecraft for war during the period, the experimental tech was scrapped and the Deuterion was sent as a war machine. The new Deuterion II, constructed in a time of peace, allowed the new tech to be installed and refined. Wielding a massive array of weapons and trawling several 'battlestations' gravitically bound to key points of the hull, the Deuterion II is one of the deadliest and largest ships ever (largest in my hangar, at least).
Dellion Millenium: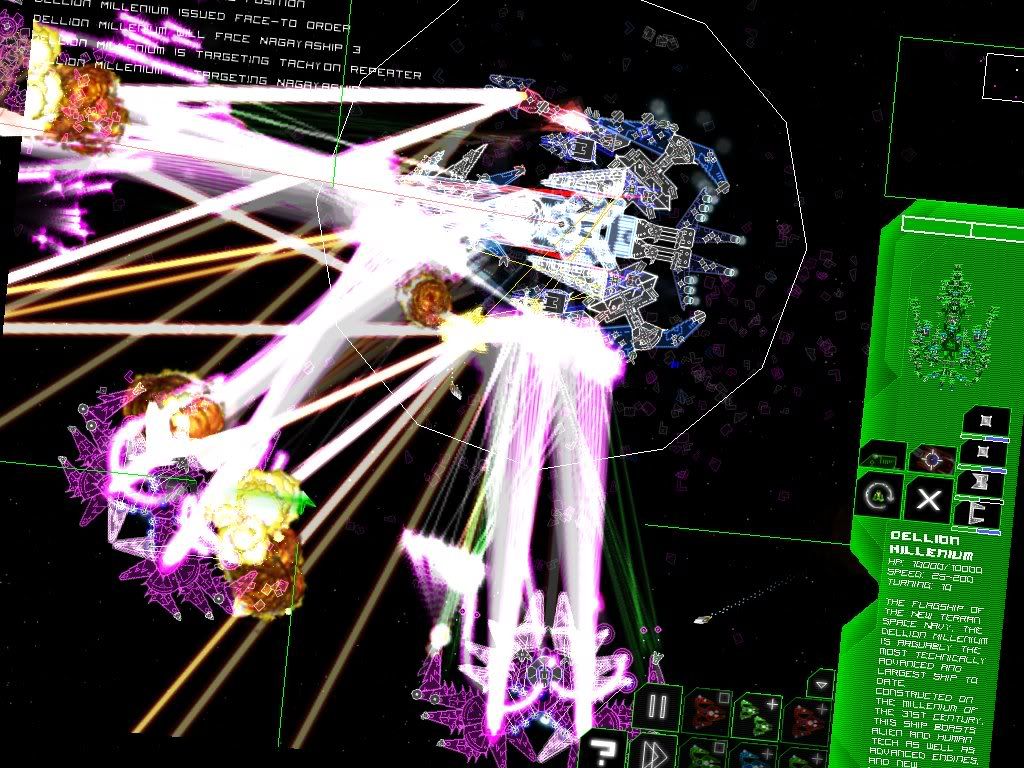 One of my older designs, and my first 'big ship', the Dellion Millenium took it's maiden voyage on the millenium of the 31st century - 3000AD. Constructed by Dellion Space Industry, it was the flagship of the New Terran Space Navy.
That's all for now.
Will release more in the future.