Gunships and Corvettes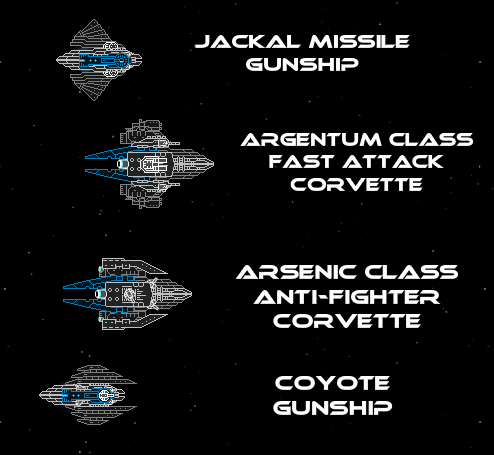 Coyote
class Gunship
Armament:
6 MW Plasma Beams x4
Gatling Mass Driver x1
Jackal
class Missile Gunship
Armament:
6MW Plasma Beams x2
AP Missile Bank x2
Argentum
class Fast Attack Corvette
Armament:
Dual Light Shrapnel Core Mass Driver x1
6MW Plasma Beam x2
Arsenic
class AF Corvette
Armament:
Enhanced Gatling Mass Driver x3
Patrol Craft
Demetrius
class Monitor
Armement:
70 MW Particle Beam x1
Orphese
class Cutter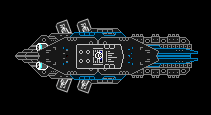 Armament:
30 MW Prototype Resonance Beam x1
6MW Plasma Beam x6
Frigates
Lumenescense
class Rocket Frigate
Armament:
EM Flare launcher x4
Thermonuclear Missile Launcher x18
Opalescense
class Assault Frigate

Armament:
6 MW Plasma Beam x8
60 MW Particle Beam x3
Thermonuclear Missile Launcher x8
Defenses:
Sectional Deflector x2
___________________________________________________________________
Heritage
class Battlecruiser

Armament:
Dual Shrapnel Core Mass Driver x10
Autocannon Mass Driver x5
2.5 MW Plasma Beam x12
70 MW Particle Beam x8
120 MW Plasma Beam x1
ThermoNuclear Missile Silo x14
Defenses:

Duranium-Titanium Hull Armour layered with reactive gelpacks and titanium honeycomb bracings

Sectional Deflector x9
What I'm doing with this ship and the ones that'll follow is reaching back to the past: these ships will be built according the design philosophies held during the MRA era: according balance, layered beams, wet-navy styled ships using stock sections...but I'm of course also adding new sections, new weapons...a bit of nostalgia, but not too much. DL's will follow once I get a few more ready.
The reason why I post these here is because I simply don't want any forum comments. Feel free to come talk to me about these ships on IRC, but I'm building them strictly for the lulz.